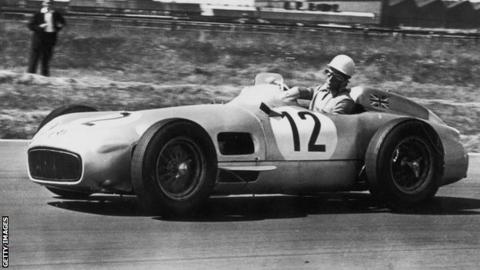 Sir Stirling Moss is the ultimate proof that statistics count only for so much when assessing the worth of a grand prix driver.
Once Juan Manuel Fangio had retired in mid-1958, there were no doubts in the minds of anyone in Formula 1 - including the other drivers - about who was the best.
The balding, diminutive Englishman who walked on the balls of his feet like he owned the race tracks of the world effectively did. He was The Man - and everyone knew it.
Moss towered over the sport to such an extent that he effectively became it. He was known as 'Mr Motor Racing'. Such was the impact Moss made that more than 50 years after his enforced retirement he remains a household name.
That Moss should have won the F1 drivers' title is beyond doubt. He was far, far better than many who did.
But for a combination of reasons - his resolve to drive for English teams wherever possible, his preference for privateer teams over factory ones, a racer's determination to put victory before all else, sheer bad luck - it never happened.
Sportsmanship
He came closest in 1958, when he lost out on becoming Britain's first world champion to Ferrari's Mike Hawthorn by a single point despite winning four races to his rival's one.
In the denouement to that season, Moss also demonstrated another of the qualities that has lodged him in the collective memory - his sportsmanship.
At the Portuguese Grand Prix, three races from the end of the season, Hawthorn was under threat of disqualification after being accused of reversing on the track. Moss' impassioned defence of his friend and rival allowed the Ferrari driver to keep his second place, which as things turned out was decisive in the championship.
Stirling Moss and Lewis Hamilton met up to compare cars and careers in 2013
In the final race of the season, in Casablanca, Moss needed to win to give himself a chance of the title and if he did, Hawthorn needed to be second to fend him off.
As Moss dominated at the front, Hawthorn drove a tactical race to ensure he was ahead of Moss' Vanwall team-mates, and was then let through into second place in the closing stages by Ferrari partner Phil Hill.
Hawthorn's name was on the trophy, but no-one - least of all the Ferrari man himself - was under any illusion that the better driver had finished second.
Moss missed out again the following year. Driving a BRM against the dominant Cooper-Climax of Jack Brabham, Moss finished only three of the nine races, but won two of them and finished second to the Australian in the other.
Despite his BRM's poor reliability, Moss went into the final round in Sebring, Florida, still in with a chance of the championship. Again he led - from pole position - only for the car to fail once more.
A massive accident at Spa in 1960, which he was lucky to survive, ruled Moss out of most of that season, but he was back for 1961.
Although his Lotus 18 was outclassed by the gorgeous Ferrari 156 'shark-nose', that season Moss produced two of his greatest races.
He took on and beat the faster and more powerful Ferraris at both Monaco and the Nurburgring in performances that stand the test of time as among the greatest there have ever been.
The crash that ended his career
It was Moss' last full season, for his career came to a shuddering halt at Goodwood on Monday 23 April, 1962.
Racing, as he so often did, outside F1, he crashed into a grass bank and was gravely injured after his Lotus veered out of control for reasons unknown, but which have always been suspected to be some kind of mechanical failure.
He was in a coma for a month, the left-hand side of his body partially paralysed for six, and it was a year before he tried a comeback.
In a private test session, also at Goodwood, he discovered that, while he could still produce the lap times, his concentration had gone and he sadly announced his retirement.
Mille Miglia
It brought to an end a career of such depth and variety that, to this day, many still regard him as the greatest racing driver there has ever been.
Partially, this view is based on his sheer versatility - at a time when grand prix drivers frequently raced in other categories, Moss excelled in everything he drove.
Outside F1, he was never better than at the 1955 Mille Miglia - a road race covering 1,000 miles through Italy in the fastest sportscars of the time.
Moss' drive on that event has passed into legend. With his co-driver, the journalist Denis Jenkinson, reading pace notes from a roller map, Moss was in a position to compete on level terms with drivers who knew the route much better than he did.
Driving a Mercedes-Benz 300SLR, he won in a new record time, beating team-mate Juan Manuel Fangio by nearly half an hour.
It is that sort of performance that has led many to class Moss above Fangio, the dominant force of F1 in the 1950s, but it is a hard argument to sustain on the basis of results in the premier category.
The two were also team-mates at Mercedes in F1 in 1955, and it was clear who was the faster driver.
Moss out-qualified Fangio only once all year - at the British Grand Prix, which was also the Englishman's only victory. To this day, Moss suspects the Argentine let him win, something the great man went to his grave insisting was not true.
Moss returns the victor at the Mille Miglia, with several pieces of bodywork missing from his Mercedes
For his part, Moss insists Fangio was better than he was. Enzo Ferrari, though, for whose team Fangio won one of his titles, disagreed. He rated Moss with the 1930s giant Tazio Nuvolari as the greatest driver of all time.
A measure of Ferrari's esteem can be seen in the arrangement he came to with Moss shortly before the Englishman's career-ending crash.
Desperate to get Moss into one of his cars, Ferrari tried to persuade him to drive for Maranello. Moss said he was happy to drive a Ferrari - but would do it only for his favourite team, the privateer outfit run by his friend Rob Walker, whose cars were always painted blue. And Ferrari actually agreed.
"Looking back," Moss says, "I suppose it was a fairly astonishing concession. But just after that I went and nearly killed myself, so unfortunately it didn't happen."
Ferrari was one of many who believed it a travesty that Moss did not win the world title. But the man himself saw it differently.
For him, like Gilles Villeneuve two decades later, the most important race was the one he was in, and not being able to call himself world champion was of little matter.
"To me," he once said, "the idea of driving for points goes against the whole point of racing. That's why I so admired Villeneuve's approach. If you're not trying to win at all costs, what on Earth are you doing there?
"As far as I'm concerned, boy, any driver who's worth the name tries to win every race he runs. Eventually, the world championship ceased to be very important to me."
Feature first published in 2012