For Immediate Release
Competition Porsches in Pole Position at Gooding & Company's Island Auction
 SANTA MONICA, Calif. (February 12, 2014) - Gooding & Company, the auction house acclaimed for selling the world's most significant and valuable collector cars, is pleased to announce the addition of several exceptional competition Porsches to the lineup of its Amelia Island Auction. The auction catalogue's cover lot, the 1968 Porsche 907 Longtail, chassis 005 (estimate: $3,500,000-5,000,000) will cross Gooding & Company's auction block as one of many premier offerings on Friday, March 7, at 11 a.m. EST at the Omni Amelia Island Plantation.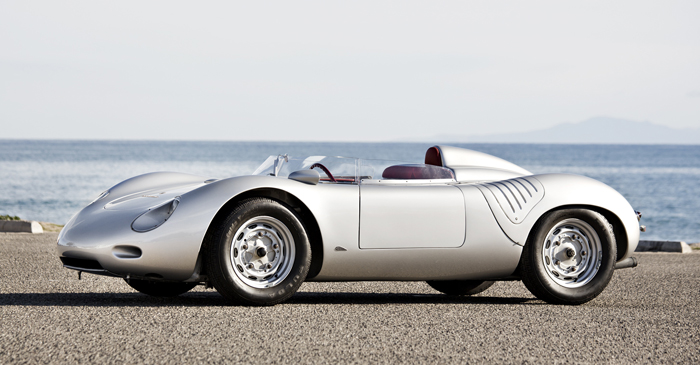 1959 Porsche 718 RSK (estimate: $3,250,000-3,750,000)
Image copyright and courtesy of Gooding & Company.  Photo by Brian Henniker.
1959 Porsche 718 RSK (estimate: $3,250,000-3,750,000)
The RSK presented here, 718-023, is a very special example of Porsche's original Type 718 four-cam Spyder. With coachwork by Wendler, it is only one of 35 Porsche 718 RSKs built and is considered by many to be one of the most beautiful Spyder models ever created. This matching-numbers, original-bodied example boasts impressive provenance as well as period racing history at Nassau, Riverside, Courtland, and Cuba. This Porsche is formally the property of Roy Schechter, Dr. William Jackson, and E. Kent Rawson. One of the most correct and original RSKs in existence, it benefits from an exceptional show-quality restoration in the distinctive color scheme of silver over red. This car is documented by noted German Porsche historian Jurgen Barth and is eligible for premier historic races, driving events, and the highest profile concours.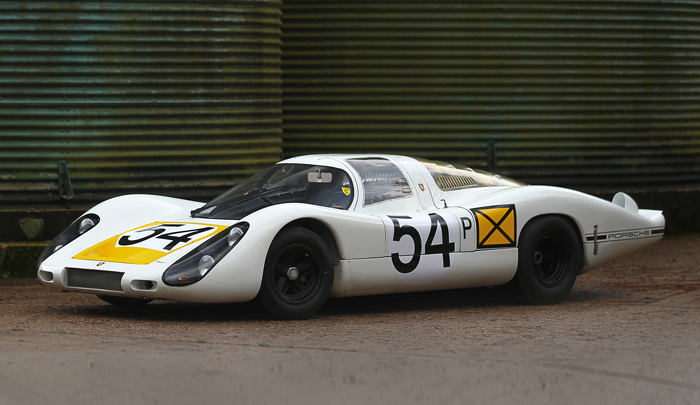 The 1968 Porsche 907 Longtail (estimate: $3,500,000-5,000,000)
Image copyright and courtesy of Gooding & Company. Photo by Mathieu Heurtault.
The 1968 Porsche 907 Longtail (estimate: $3,500,000-5,000,000)
David Gooding, President and founder: "Since the development of the 907, Porsche has been on the cutting edge of racing innovation and this car represents a high point in technology and engineering. We have seen collector demand for elite Porsches progressing on the same trajectory as Ferrari, BMW, and Mercedes. Gooding & Company is proud to continue our successful record of offering high-profile racecars at auction by presenting the 907 in Amelia Island."
One of only seven 907 Longtails built for the 1968 racing season, this car is finished in classic white Porsche livery, and is one of only two extant. In 1968, it was the first Porsche to win a 24-hour race as overall winner at the Daytona 24 Hours during the legendary Porsche 1-2-3 finish. This Longtail, a four-time Le Mans entrant, is perhaps the most successful 907, and achieved a First in Class win in 1971. During its career, this car was driven by noted racers Vic Elford, Hans Hermann, Jo Siffert, Rolf Stommelen and Jochen Neerspach.
Most recently this winning collectible has been restored to correct 1968 Daytona configuration and fitted with a correct eight cylinder engine. The 907 competed in the Daytona 50th anniversary celebration in 2012 and was voted Most Historically Important Race Car on the field at the Amelia Island Concours d'Elegance in 2011. This car, with its unique winning attributes, would enhance any collection of automobiles both on and off the track. It represents one of the most important and beautiful Porsches in existence.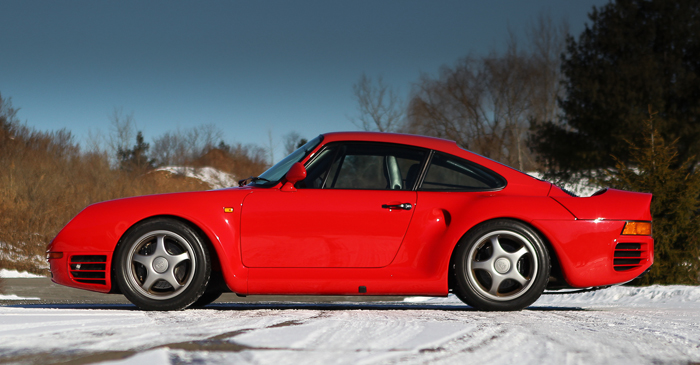 1988 Porsche 959 Sport (estimate: $900,000-1,200,000)
Image copyright and courtesy of Gooding & Company.  Photo by Mathieu Heurtault.
1988 Porsche 959 Sport (estimate: $900,000-1,200,000)
A landmark supercar and one of Porsche's finest, the 959 Sport offered here is an exceptionally pure and low mileage example with just 5,956 miles on the odometer at the time of cataloging. One of only twenty-nine 959 Sports produced, this car was upgraded by Canepa Design for enhanced usability and performance. Finished in Guards Red over gray cloth seats, this well maintained 959 also features the Porsche WERKS I steering wheel and a factory roll cage.
1983 March-Porsche 83G GTP (estimate: $750,000-1,000,000)
The first Porsche powered IMSA GTP prototype, chassis no. 83G-4, is a stunning racing legend. This car boasts a 2,994 CC DOHC flat 6-cylinder engine, Bosch mechanical fuel injection, a single intercooled turbocharger with adjustable boost and advanced aluminum honeycomb construction. 83G-4 was the overall winner of the 24 Hours of Daytona in 1984, overall winner of the IMSA GTP Championship in 1983 with Al Holbert and winner of 7 of 18 races entered in 1983 and 1984. This stunning racer has been restored to its distinctive blue, white, and grey "Kreepy Krauly" Daytona winning livery and specification.
Additional competition highlights from Gooding & Company's Amelia Island Auction include a fantastic, numbers-matching 1974 Porsche Carrera RS 2.7 Lightweight (estimate: $900,000-1,100,000), a factory prepared rally specification 1968 911 L (estimate: $350,000-500,000) and a 1955 Porsche 356 Speedster (estimate: $325,000-400,000) raced in period by the legendary Pedro Rodriguez, among others. The collection of Porsches on offer highlights the diversity and success of the marque in competition over numerous decades.
The Amelia Island Auction
Date(s): Friday, March 7, 11:00am EST
Location: Omni Amelia Island Plantation, Racquet Park, 6800 First Coast Hwy, Amelia Island, FL 32034
Public preview: March 6-7
Auctions catalogues: $75, includes admission for two to the viewing and the auctions
General admission: $30, includes admission for one to the viewing and the auctions
Live auction broadcast: www.goodingco.com
Facebook: www.facebook.com/GoodingCompany
Twitter: @GoodingCompany
RSS: www.goodingco.com/rss.xml
About Gooding & Company
Gooding & Company, internationally celebrated for its world-class automotive auctions, provides unparalleled service in the collector car market, offering a wide range of services including private and estate sales, appraisals, and collection management. Gooding & Company has realized 50 world records and sold $192.6 million in auction sales in 2013. The annual Amelia Island Auction will take place on March 7 and The Pebble Beach Auctions on August 16 and 17. Gooding & Company is pleased to be the official auction house of the Pebble Beach Concours d'Elegance®. Preceding each auction, a complete catalogue is made available online at www.goodingco.com and the sale is broadcast live on our website. For additional vehicle information and up-to-the-minute results, follow Gooding & Compay on Facebook and Twitter @GoodingCompany.
###
Media Contact: Jannelle Grigsby, 310 526 0584, jannelle@goodingco.com