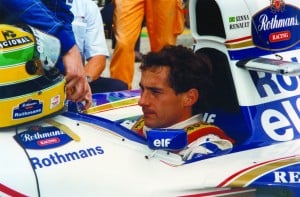 Ayrton Senna races at San Marino Grand Prix in Imola, Italy in 1994. The racer's story is one of the most acclaimed documentaries of the year. (Courtesy photo)
Read more:
http://journalstar.com/entertainment/movies/article_ddc9e82b-8ff2-5...
"Senna" is the most acclaimed documentary of 2011 for good reason -- it is as compelling as a fictional film, with a handsome charismatic lead character and better action than most computers will ever generate.
Released under the auspices of ESPN Films, which has made a great series of documentaries in its "30 for 30" series and has continued to create solid sports pictures, "Senna" is composed entirely of vintage footage.
Starting with home/amateur movies taken of the teen Ayrton Senna as a go-cart driver and running through his fatal 1994 crash, the footage put together by British director Asif Kapadia feels as if it was shot decades ago to become a narrative film today.
That's evidence not only of the skill of Kapadia and his crew, who had to dig through miles of film to find the shots, but of the omnipresent cameras around Formula 1 racing -- shooting in the garages and driver meetings, outside hospitals and, crucially for the film, inside Senna's car.
Those racing sequences, particularly a full-speed, in-race lap around the Monte Carlo Grand Prix course, give the film exciting realism unmatched by anything Hollywood has yet created. You feel like you're riding with Senna, and on the big screen, it's thrilling.
Ken Hambleton, the Journal Star's auto racing writer, has superbly laid out why "Senna" is so good and describes the compelling story well. I'll add that the picture wouldn't have worked had the young Brazilian not been so charismatic, camera friendly and, above all, a really good guy -- at least from what the film shows.
The latter also comes through in the testimony given by friends, family and racing team members whose voices are over the fast-moving chronological scenes.
It is important to note that "Senna" was made with permission and help from Senna's family and the foundation that operates in his name that provides education for poor Brazilian kids. It's not likely there would be anything scandalous in such an authorized picture.
That disclaimer aside, "Senna" is one of the best sports movies in years and one of the top sports documentaries ever. See it on the big screen -- it won't be nearly as thrilling on your TV.
Reach L. Kent Wolgamott at 402-473-7244 or kwolgamott@journalstar.com, or follow him on Twitter at twitter.com/LJSWolgamott.
Grade: A
Director: Asif Kapadia
Rated: PG-13 (for some strong language and disturbing images)
Running Time: 1 hour, 44 minutes
The Reel Story: Assembled from vintage footage, this film compellingly tells the story of Formula 1 driver Ayrton Senna. With lots of racing action, it is one of the top sports documentaries ever.